Programmet til årets Vårseminar er nå lagt ut på Guidebook
Last ned Guidebook på din telefon eller nettbrett (Android / iOS) og søk etter "OUGN" da finner du "OUGN Spring Seminar 2018" som du kan laste ned og ha på din telefon under hele turen.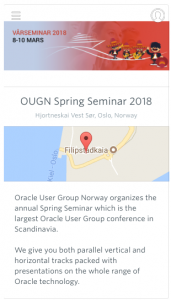 Eller du kan lese Guidebook på nettet her
Årets keynotes og litt til:
 Hans Olav Hamran, VP Technology Oracle Nordic, gir oss ett innblikk i hvordan Oracle ser på fremtiden?
Digitaliseringens myter
med Anette Grande Urhamar, CEO for KnowIT Experience i Oslo. Erfaren foredragsholder, mentor og rådgiver.
Blockchain and Oracle?
med Luis Campos, Director Data Management Cloud, Oracle EMEA
Andre "highlights" fra de parallelle faglige sesjoner:
Uwe Hesse
Exadata Smart Scan Deep Dive
Daniel Morgan
Oracle Security for DBAs and Developers
Sai Janakiram
A 360-Degree View of Oracle Database Cloud Service
Toon Koppelaars
Connection Pool Concepts, and How to Size Them
Ricardo Gonzalez
Test and Development Environments provisioning with Oracle ACFS
Simon Haslam
Traditional Oracle Professionals: let's talk about REST!
Maarten Smeets
Microservices on Application Container Cloud Service
Robert Marz
Automatically deploy schema changes with Ansible and Liquibase
Gianni Ceresa
Pimp your DevOps with Docker: an Oracle BA Example
GDPR & You: The Nightmare of Business Analytic (but Graphs DB Will Save You)
Christen Seeberg
Analytics & Big Data Data Discovery and Visualization on Machine Learning steroids
Magnus Fagertun 
What did Hadoop ever do for us?
Gurcan Orhan
How to solve complex business requirements with Oracle Data Integrator?
Pål Børseth-Hansen
Oracle og maskinlæring