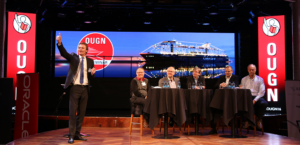 OUGN Vårseminar til Kiel 9.-11. mars – meld deg på her – frist torsdag 2.mars
To dager fullspekket med faglig innhold og foredragsholdere i toppklassen.
Programmet er publisert! Last ned til mobil eller På web
Smakebiter fra årets program:
DNV GL – den digitale transformasjon – Senior VP, Elling Rishoff,reflekterer over hvordan man håndterer legale, finansielle og tekniske utfordringer på toppen av hybrid skyarkitektur.
God stemning– med relasjonsterapeut og standup-komiker, Dora Thorhallsdottir
De 3 musketerer! 84 års fartstid med Oracle, og fremdeles relevante! – Frode, Inge og Audun vil gjennom anekdoter og historier vise hvordan man kan ha det gøy gjennom 30 år med kontinuerlig endring i det norske Oracle miljøet.

"Highlights" fra de parallelle faglige sesjoner:
Core Tech:
Mike Dietrich O–racle Database guru – Upgrades and Migrations. Mike tar oss med gjennom hele oppgraderingen for Oracle Database 12.2
Martin Bach – Oracle Certified Master 12c, ACE Dir. Martin gir oss et innblikk i alt som er nytt for Oracle Linux 7.
Db Development:
Kuassi Mensah– Director of Product Management at Oracle Corporation. Kuassi viser oss hvordan implementere JavaScript microservice for dataprosessering direkte i Oracle DB.
Sai Janakirim – Oracle ACE Director and Oracle Certified Professional. Sai viser oss hvordan microservice, DevOps og sky-tjenester gir stor verdi til kunde.
Java:
Ove Olsen – DevOps teknolog med 10+ års erfaring med Oracle teknologi og Java. – "Profilering, analyse og overvåking av applikasjoner som kjører på JVM"
Jorge Quilcate – Software Developer with more than 5 years of experience working with Java and Oracle Fusion MW. – "Moving from Traditional Messaging to Apache Kafka"
AppDev/Middleware
Sandra Flores – Independent SOA Architect working in México City. "SOA, Microservices and Service Orientation: The Samurai Way"
Frank Munz – Expert in Oracle Middleware and distributed computing. "Serverless Architecture FaaS – what is that? How to?"
BI/DWH/Big Data
Robin Moffatt – Principal Consultant hos Rittman Mead og Oracle ACE – "Performance i OBIEE 12c", Big Data Spatial og Stream Analytics!
Wanda Presthus – Førsteamanuensis ved Westerdals Oslo ACT. Wanda presenterer "design av BI-dashboards". Hun bruker et stort norsk logistikk-selskap som case-studie.
Strategy and More
Henning Maagerud – National Contact Point for EU-kommisjonens forskningsprogram Horizon 2020 på forskningsområdene IKT og samfunnssikkerhet. Henning presenterer "Spionasje, overvåkning og informasjonssikkerhet"
Bjørn Deverill-Mathisen – Sales and marketing professional and an inspiring and energetic leader. Bjørn presenterer "Do you really think you have a job in 10 years?"
Apps
Johan Almqvist – Senior Technology Architect and leads Accenture's Oracle business in Norway. Johan presenterer "One year later – experiences from an upgrade to 12.2.5"
Dag Kallhovd – Solution specialization in ERP (OeBS) and logistics. Dag presenterer "Effektiv vareforsyning i Helse Sør-Øst gjennom regional ERP